Air Hockey Brackets

Archery Brackets

Backgammon Brackets

Badminton Brackets

Baggo Brackets

Baseball Brackets

Basketball Brackets

Beer Pong Brackets

Billiard Brackets

Bocce Ball Brackets

Bowling Brackets

Bubble Hockey Brackets

Bumper Pool Brackets

Card Game Brackets

Chess Brackets

Cricket Brackets

Cornhole Brackets

Dart Brackets

Dodgeball Brackets

Dutch Shuffleboard Brackets

Euchre Brackets

Foosball Brackets

Football Brackets

Golf Brackets

Handball Brackets

Hockey Brackets

Horseshoe Brackets

Kan Jam Brackets

Karate Brackets

Ladderball Brackets

Ladder Golf Brackets

Little League Brackets

Madden Brackets

Mini-Golf Brackets

MMA Fighting Brackets

Outdoor Shuffleboard

Pickleball Brackets

Pinewood Derby Brackets

Ping Pong Brackets

Playstation Brackets

Poker Brackets

Polo Brackets

Quoits Brackets

Rugby Brackets

Scrabble Brackets

Shuffleboard Brackets

Softball Brackets

Squash Brackets

Swimming Brackets

Table Hockey Brackets

Table Shuffleboard Brackets

Table Tennis Brackets

Tennis Brackets

Ultimate Frisbee Brackets

Video Game Brackets

Volleyball Brackets

Washer Toss Brackets

Water Polo Brackets

Wii Brackets

Wrestling Brackets

Xbox Brackets


BLIND DRAW


Single Elimination Brackets


Double Elimination Brackets
Seeded Tournaments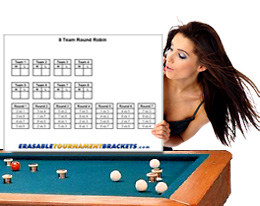 Our Erasable Tournament Brackets are perfect for your air hockey tournaments! These laminated tournament brackets are extremely durable and can be used many times over! We'll even include a FREE MARKER with your order! Tournament Bracket charts are 22 x 34 inches.
CLICK HERE TO VISIT OUR STORE!
FREE Tournament Tips and Brackets!
Print Your Brackets on ErasableTournamentBrackets.com or visit our store to purchase a laminated chart.
There are two ways to run single or double elimination tournaments --- either "Blind Draw" or "Seeded".
Seeded Tournaments are usually run with a league or season event so that skill level can be determined.
The number one ranked team players the lowest ranked seed, the number two ranked team plays the second lowest ranked seed and so on.
You will need to estimate the number of teams to determine if you want a Single or Double elimination tournament. After this has been determined, follow the rules of Single or Double elimination tournaments.
Print Your FREE Single Use Tournament Brackets!
---
*Prices assume U.S. deliveries. For shipping costs to other locations, please contact us.

These files require Adobe Acrobat PDF Reader to view. Download the free pdf reader.