Air Hockey Brackets

Archery Brackets

Backgammon Brackets

Badminton Brackets

Baggo Brackets

Baseball Brackets

Basketball Brackets

Beer Pong Brackets

Billiard Brackets

Bocce Ball Brackets

Bowling Brackets

Bubble Hockey Brackets

Bumper Pool Brackets

Card Game Brackets

Chess Brackets

Cricket Brackets

Cornhole Brackets

Dart Brackets

Dodgeball Brackets

Dutch Shuffleboard Brackets

Euchre Brackets

Foosball Brackets

Football Brackets

Golf Brackets

Handball Brackets

Hockey Brackets

Horseshoe Brackets

Kan Jam Brackets

Karate Brackets

Ladderball Brackets

Ladder Golf Brackets

Little League Brackets

Madden Brackets

Mini-Golf Brackets

MMA Fighting Brackets

Outdoor Shuffleboard

Pickleball Brackets

Pinewood Derby Brackets

Ping Pong Brackets

Playstation Brackets

Poker Brackets

Polo Brackets

Quoits Brackets

Rugby Brackets

Scrabble Brackets

Shuffleboard Brackets

Softball Brackets

Squash Brackets

Swimming Brackets

Table Hockey Brackets

Table Shuffleboard Brackets

Table Tennis Brackets

Tennis Brackets

Ultimate Frisbee Brackets

Video Game Brackets

Volleyball Brackets

Washer Toss Brackets

Water Polo Brackets

Wii Brackets

Wrestling Brackets

Xbox Brackets


BLIND DRAW


Single Elimination Brackets


Double Elimination Brackets
Baseball Tournament Brackets
Get a Baseball
Tournament Bracket for Your Game!

Choose From 4 Options

1) FREE! Print a Chart for Free Using Our Templates
Great option if you need it now!
2) Original Erasable Laminated Tournament Posters!
Attaches to wall and easily transports to your event!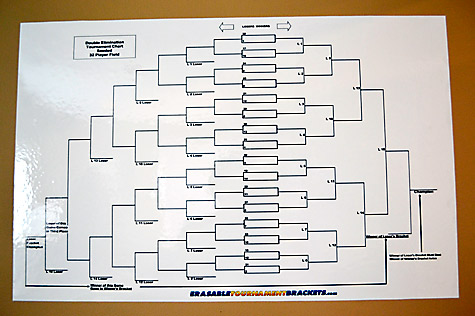 $29.99 with FREE SHIPPING and FREE PEN!

3) Reuseable Wall Mount Adhesive Tournament Posters!
Removable, repositionable charts easily stick to your wall!
Available in 6 Popular Styles!

$39.99 with FREE SHIPPING and FREE PEN!

4) Reuseable Permanent Mount Outdoor/Indoor Tournament Posters!
Aluminum board is reuseable and built for permanent mounting!
Available in 4 Top Styles!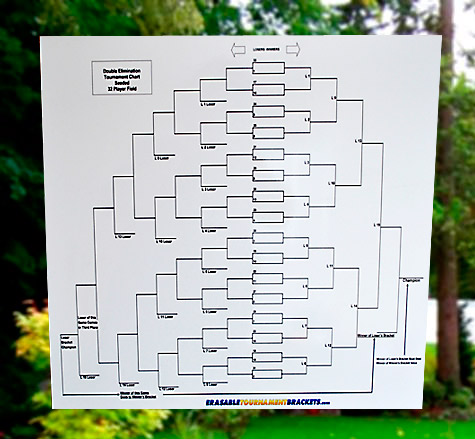 $89.99 with FREE SHIPPING and FREE PEN!

More Baseball Information
Did You Know?
Cincinnati Red Stockings were the first team to so declare themselves as openly professional.
Game History
The first mention of baseball in journals were from 1791. Baseball gained in popularity in the 1860's during the Civil War.
Related Links
Major League Baseball
---
*Prices assume U.S. deliveries. For shipping costs to other locations, please contact us.

These files require Adobe Acrobat PDF Reader to view. Download the free pdf reader.